Searle's RV Centre – Willow RV Queensland Dealership
Illawarra Series New Luxury Family Caravans
The Willow RV Illawarra series is designed to ensure you don't have to compromise on space or luxury.

Illawarra Series
Outstanding value for money, experience one of the most highly competitive vans available on the market. Discover the ultimate in luxury and space, enjoy open plan living combined with a larger than average rear ensuite, increased sleeping space including a full queen sized bed, and a gourmet entertaining kitchen, this a highly desirable design for long weekender's or extended travellers.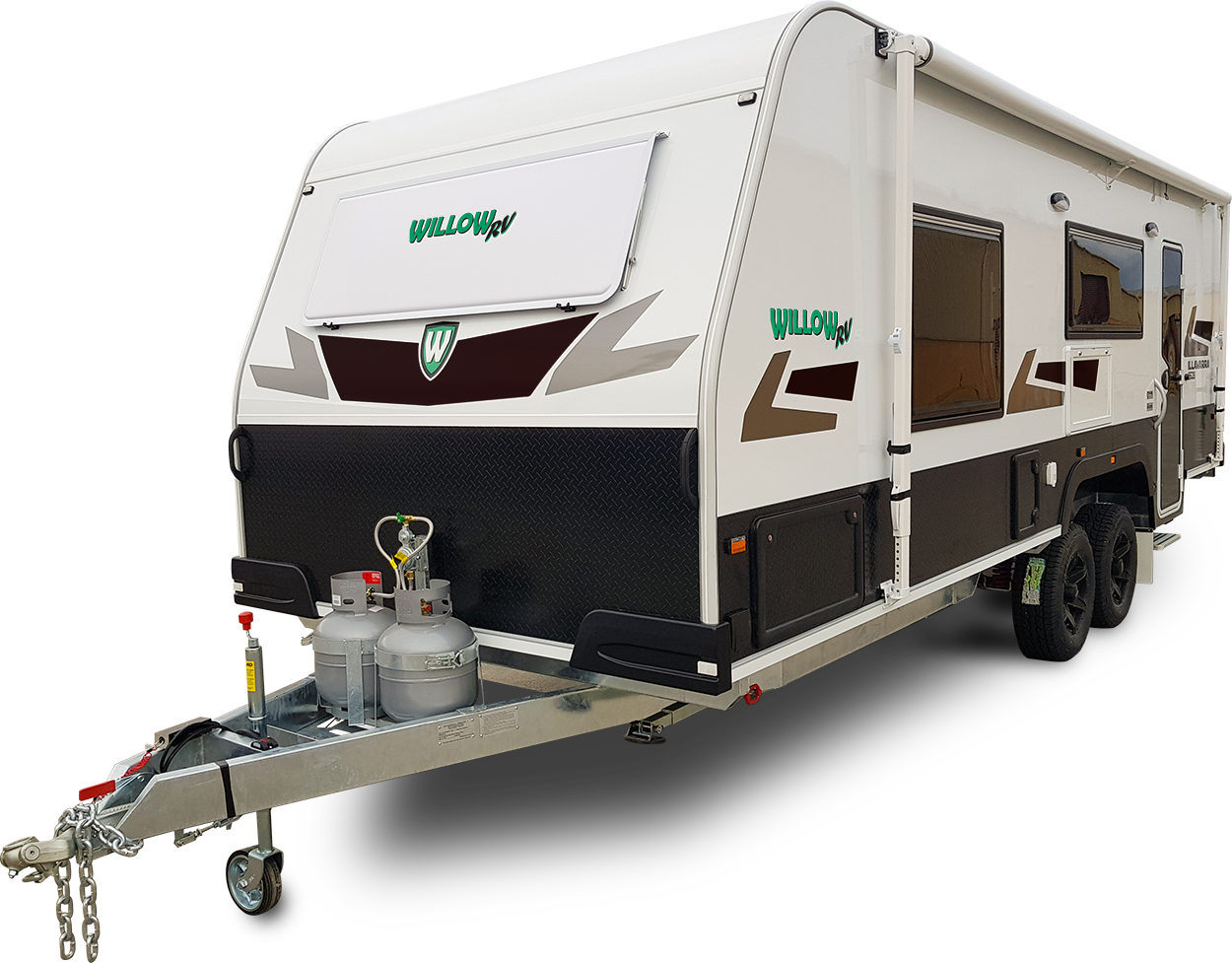 21'8″ Luxury Caravan with Ensuite
With the Illawarra 6528, there's no need to compromise on space. Redefine your expectations and enjoy living the life of luxury while you are on the road. With individually handcrafted personalisation, stunning interiors and an abundance of room to live how and where you want, the Illawarra has a long list of inclusions to ensure your experience is second to none.
Choose from a huge range of optional accessories to perfect and personalise your van to suit the travelling lifestyle you desire. Enjoy comfort, style and space when you choose our most spacious and luxurious van to date.
With a long list of features designed with the travelling connoisseur in mind, choose from fabrics and finishes, to endless joy inspiring accessories. When you select a Willow Illawarra, you're choosing the ultimate in style and comfort.
From your gourmet kitchen and spacious dining area with foot rests, to the larger ensuite, contemporary vanity and quiet 3.2kg top-loading washing machine, you'll feel right at home as you tour the country in style.
| Specifications | |
| --- | --- |
| ATM Weight (kg): | 3,200 |
| Tare Weight (kg) (Approx): | 2,535 |
| Payload (kg): | 665 |
| Tow Ball Weight (kg): | 253 |
| Body Length (mm): | 6,920 (22'8") |
| Overall Height (mm): | 2,955 (9'8") |
| Overall Length (mm): | 8,730 (28'6") |
| Overall Width (mm): | 2,470 (8'1") |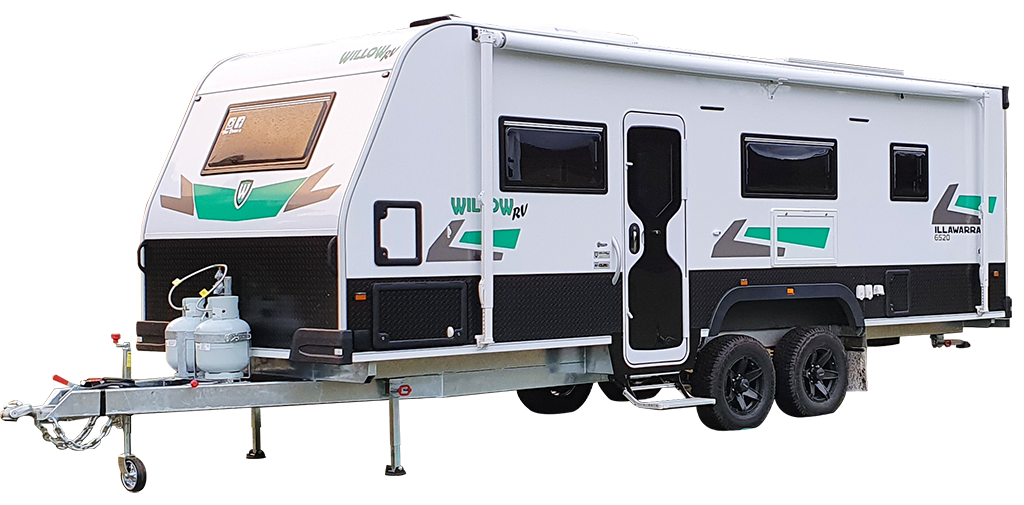 21'10" Luxury Family Touring Caravan with Ensuite & Bunks

The Illawarra 6520 is an exciting new 21foot caravan with great sized dual bunk beds for the kids, a king size bed for the parents, and plenty of space to accommodate the active family as you travel throughout Australia on your adventure.
Safe and comfortable, enjoy all the luxuries you could hope for in this spacious and well-planned family bunk caravan! Whether you are looking for a vehicle for your cruising holidays together, or a big trip family adventure van, our Illawarra 6520 model has what you need for an easy and enjoyable getaway. With a myriad of standard features and larger than normal bunks for the kids, the Illawarra 6520 will get you where you need to go, with everything you need as a family, all in one stunning van.
We know that you'll be thoroughly impressed by the modern and spacious layout of this outstanding family model. From the family size kitchen, loads of storage internally, large external entertainment area with convenient picnic table, to the space around the dinette, larger ensuite, with contemporary vanity and quiet 2kg mini front-loading washing machine, you'll feel right at home as you tour the country in style. The Illawarra 6520 is the perfect van that allows you keep on towing, as your kids keep growing!
If you're looking for the perfect van that has plenty of room and a great range of inclusions, one that can accommodate your growing family as well as your wanderlust, then this is definitely the van for you. Easy to own and easy to tow, discover the perfect memory maker for your family adventures.
| Specifications | |
| --- | --- |
| ATM Weight (kg): | 3,400 |
| Tare Weight (kg) (Approx): | 2,720 |
| Payload (kg): | 680 |
| Tow Ball Weight (kg): | 270 |
| Body Length (mm): | 6,920 (22'8") |
| Overall Height (mm): | 2,955 (9'8") |
| Overall Length (mm): | 8,730 (28'6") |
| Overall Width (mm): | 2,470 (8'1") |